Easy 60 Day Returns
$10 Flat Rate Shipping
Satisfaction Guaranteed
Introducing our all NEW compost caddy ♻️
Saving waste has never looked this good.
Our Compost Caddy is the perfect benchtop bin to collect your food scraps in! Made from high quality, easy-to-clean stainless steel and available in three different styles, this durable caddy suits any kitchen.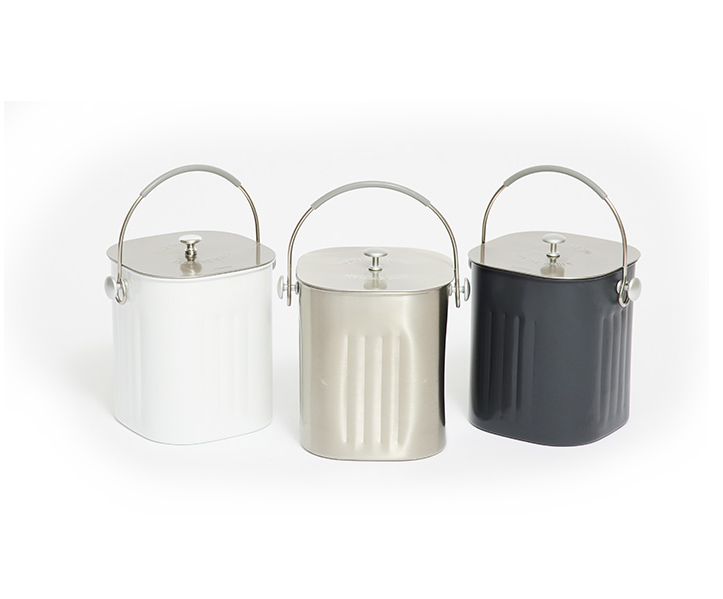 A beautiful addition to your bench top. Created in colours to suit all homes.
Premium quality 304 steel
For cleanliness, durability, and stain & rust protection.
Perfect for a household of 1 - 4 people. 5 litre capacity - 18.5x18.5x25cm

Our unique lid seals, stops flies and uses a unique "no filter" design to reduce waste.
🇺🇸 Fast shipping from our local U.S.A. warehouses 📦
MADE WITH CARE
Design Highlights
Saving waste should be simple and, with our Caddy, it is.
The combination of a stainless steel interior (making cleaning as easy as a quick rinse) and charcoal filter-free lid (no more replacing mouldy filters) means there's almost no maintenance needed to keep your Caddy looking fresh and your scraps safe from insects.
We suggest skipping the liners with our Caddy since it's so easy to clean. Prefer to use a liner? No worries, our Compost Caddy has been designed to fit conventional compostable liners that are available at all major stores.

Subpod tip: Skip the expensive liners and use large brown paper sandwich bags instead. They aren't as durable, but they're safe to put in your Subpod.
Made from food-safe 304 stainless steel
We don't suggest using our Caddy as a lunchbox, but you could in a pinch! We make our Caddies from durable, food-safe 304 stainless steel because we want them to last you a lifetime without flaking anything nasty into your garden.
Comfortable stainless steel handle with silicone grip
Your fingers won't freeze on any early morning compost runs, thanks to the comfortable silicone grip on your Caddy's handle. It's slip-resistant, feels great in the hand and stops the durable stainless steel handle from scuffing the body of your beautiful Kitchen Caddy.
Our company motto is "Feed the Soil, Feed the World" and it's been a part of us from the very beginning. Engraving it on our Caddy lid is our way of reminding you to be proud of the contribution you're making to the environment.
Every time you feed your Caddy, you're saving food from landfill and preventing greenhouse gas production. We don't want you to forget it!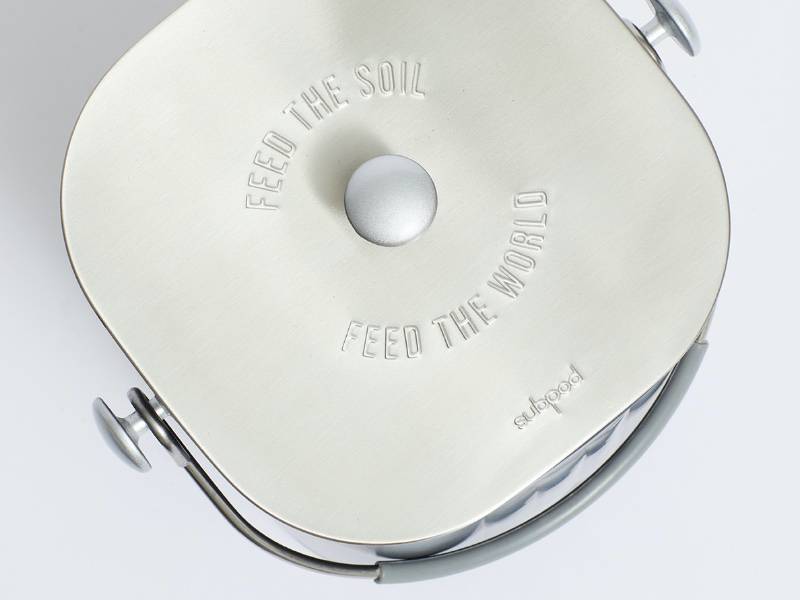 INNOVATIVE, ODOURLESS & FREE FROM FLIES
Hassle-free lid
No more messing around with fiddly charcoal filters. They're gross to clean and a pain to replace – that's why our caddy has a sealed lid with zero negative space. It's simple to clean, creates an airtight seal when closed and fits perfectly every time.
ONLY THE BEST MATERIALS
304 steel
Forget cheap tin kitchen caddies, our Compost Caddy is made from 304 stainless steel – the same steel used to make industrial dishwashers. It's durable, anti-corrosive and if you treat it well, will last a lifetime.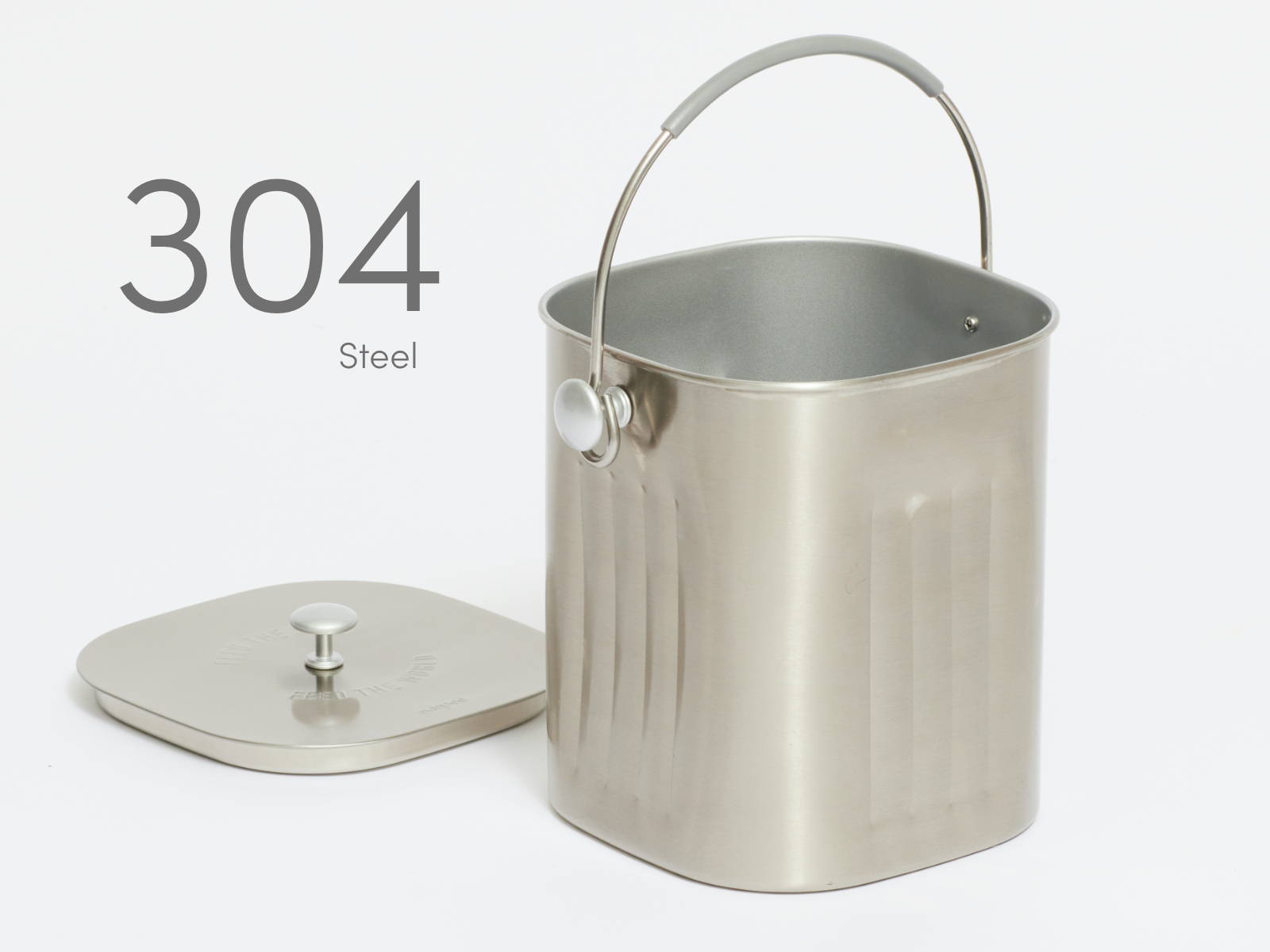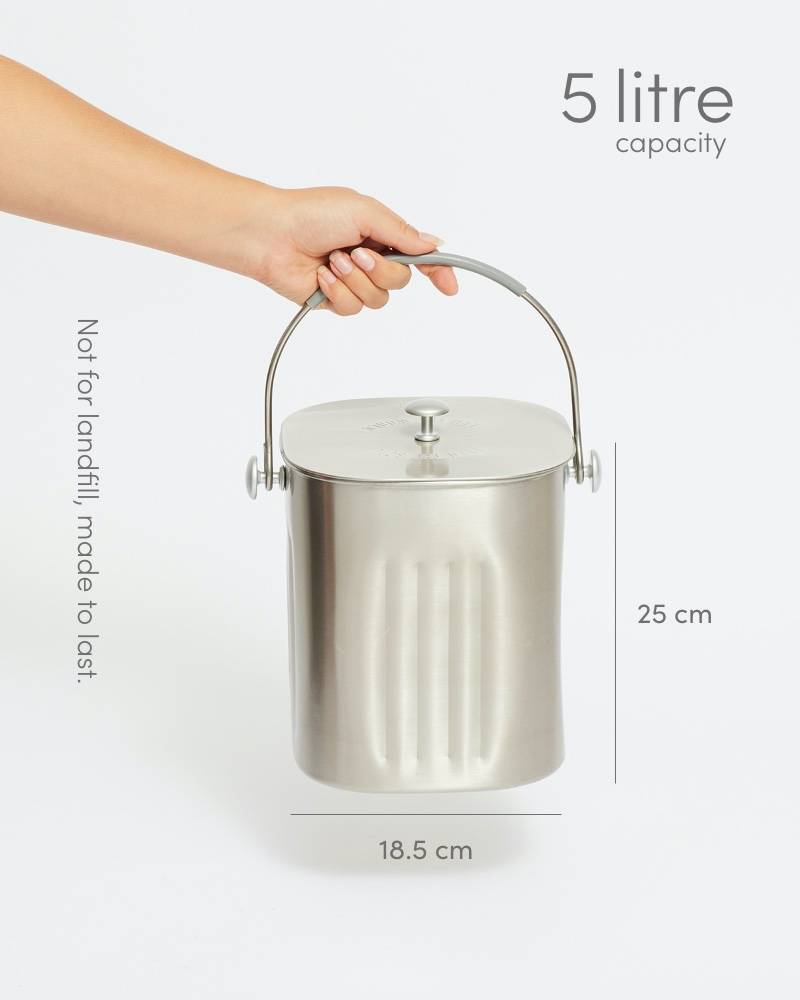 Why doesn't the lid have a charcoal filter?
We've found that charcoal filters don't make much of a difference if you empty your caddy every 2-3 days – and they can get GROSS. They're usually hard to clean, need frequent replacing, and we wanted to make a caddy that would last you a lifetime (no replacement parts needed).
Our Caddy's inset lid creates a snug seal when closed, so it still keeps insects out and any odours in. It's easy to clean and you'll never need to spend an extra cent to keep it looking fresh.
What should I do with my scraps once they're in the caddy?

Compost them! Our in-ground compost systems, Subpod Classic and Subpod Mini, make composting easy no matter where you live. Just empty your caddy into your Subpod along with some shredded paper or cardboard every 2-3 days, rinse it out and pop it right back on your counter to start collecting again.
What if I don't have a Subpod?
Many councils offer organic waste collection, check if there's green bin collection for your street! You can also see if there's a local community garden that would be happy to compost your scraps for you. But when it comes diverting waste, nothing beats composting at home.
Is this the right size for me?
That's a tricky question! We all use different amounts of food in the kitchen, but our Caddy has a generous 5L capacity, which is the standard for most compost caddies. It will fit on any bench, ledge or windowsill wider than 19cm.
Because we suggest emptying our Caddy every 2-3 days, your scraps don't need to be left to stand for any time, so our Caddy is the right fit for most.
You can use your Caddy to store all the compostable items below, before you empty it into Subpod:


Food Waste
Fruit and vegetable scraps

Eggshells (crush them first)

Coffee grounds, used tea leaves

Spoiled plant-based milks

Grains, pastas & breads

Nuts (and their shells), seeds, pits, husks
Small amounts of meat, seafood, dairy foods, citrus, onion and garlic, spicy herbs, peppers and oils may also be added.
Paper & Card
Scrap paper and cardboard can be added to your Caddy, as long as it's not laminated or super glossy.
Office paper

Junk mail, bills, envelopes (no plastic windows)

Post-it notes

Paper plates, paper towels, tissues

Egg cartons, paper cupcake liners, baking paper,

Card, paper packaging
Natural Fibres
Cotton wool balls

Toilet paper/paper towel cores

Old napkins (made from natural fibres like cotton, tencel, linen, hemp or wool - no polyester, nylon, acrylic or blends)


Wood & Bamboo

Toothpicks, disposable wood & bamboo cutlery

Used matches

Bamboo skewers
🚨 Not Compostable 🚨
You should never put any non-organics such as plastic, tin cans, cigarettes, building waste, toxic waste, glass, or anything similar into your Caddy.
How long can I leave it on my counter?
We suggest emptying your compost caddy every 2-3 days to keep it smelling fresh and make it easy to clean. You can also empty it daily if you prefer!
Do I need to use compost accelarator?
Nope! The worms and microbes inside Subpod make quick work of your waste, so accelerators aren't necessary. Of course, it's still safe to use accelerators if you prefer, as they can speed up the composting process even further.
Do I have to use a liner?
Most liners will fit, but they aren't necessary. Our Compost Caddy is made from durable stainless steel, so the inside won't rust or stain (even in constant contact to your scraps).
If you'd like to use liners, we suggest using large brown paper sandwich bags for an eco-friendly option. They're a little more fragile, but they'll break down naturally in your Subpod.
Do something great for the planet 🌎 compost!
PERFECT FOR ANY HOME
There's a style for you
Pick the Caddy that's right for your kitchen! Choose from subtle charcoal, bright white or go classic with a timeless all-steel look.